VSMF 2023 PERFORMERS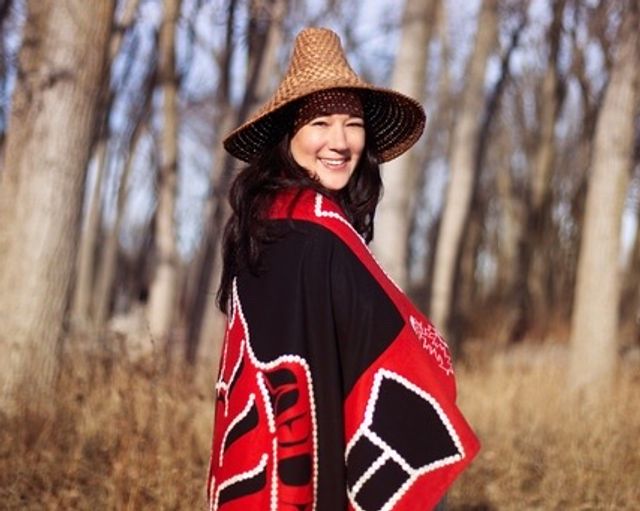 Marion Newman (Noiram Namwen), mezzo-soprano
A critically acclaimed mezzo-soprano of Kwagiulth and Stó:lō First Nations with English, Irish and Scottish heritage, Marion Newman (Noiram Namwen) was born in Bella Coola and grew up in Sooke, BC. She is one of Canada's most accomplished singers in repertoire from Vivaldi to Vivier. As Carmen, the Irish Examiner noted "she sparked an electricity which totally engrossed the audience with her superbly sinuous sexuality... Prudes may raise their eyebrows at the sensuality of this Carmen; theatregoers will clamour for more." Nominated for a Dora Award for her leading role in the world premiere of Shanawdithit (Nolan/Burry) with Toronto's Tapestry Opera, Ian Ritchie wrote "she invests her character with towering dignity and courage".
Marion portrayed Dr. Wilson in the premiere of Missing (Clements/Current) with Vancouver City Opera/Pacific Opera Victoria, which gives voice, in English and Gitxsan, to the story of Canada's missing and murdered Indigenous women. In 2023, Marion debuts with Anchorage Opera in their production of Missing.
Highlights for the 2022/23 season include Cantaloube's Chants d'Auvergne with Vancouver Island Symphony, Messiah with Vancouver Bach Choir, Bruckner's Te Deum and the world premiere of Stephanie Martin's Water, with Grand Philharmonic Choir and Kitchener-Waterloo Symphony.
Recent guest appearances include Mozart's Requiem, a digital co-production with Canadian Opera Company and Against the Grain Theatre, The Echoes Project with Gryphon Trio, and Five Songs on Poems of Marilyn Dumont (Cusson) with the New Orford String Quartet for Cecilia Concerts in Halifax.
Marion has sung many works that speak to her First Nations identity, including a Canada-wide tour
of Ancestral Voices (Tovey) with the Vancouver Symphony and Nuyamł-ił Kulhulmx - Singing the
Earth (Höstman/Robinson) with the Victoria and Vancouver Symphonies and Continuum Concerts in Toronto.
Marion created the role of Dawn with Welsh National Opera in the July 2022 world premiere of Migrations, with stories by five writers based on their personal experiences of migrations and working with refugees. Also with Welsh National Opera, Marion stars in the premiere of The Shoemaker, a fusion of Latin American, Persian and Western classical musical influences, and performs in Migrations UK tour.
In addition to her extensive performing career, Marion is a Co-Founder of Amplified Opera and the host of CBC's Saturday Afternoon at the Opera.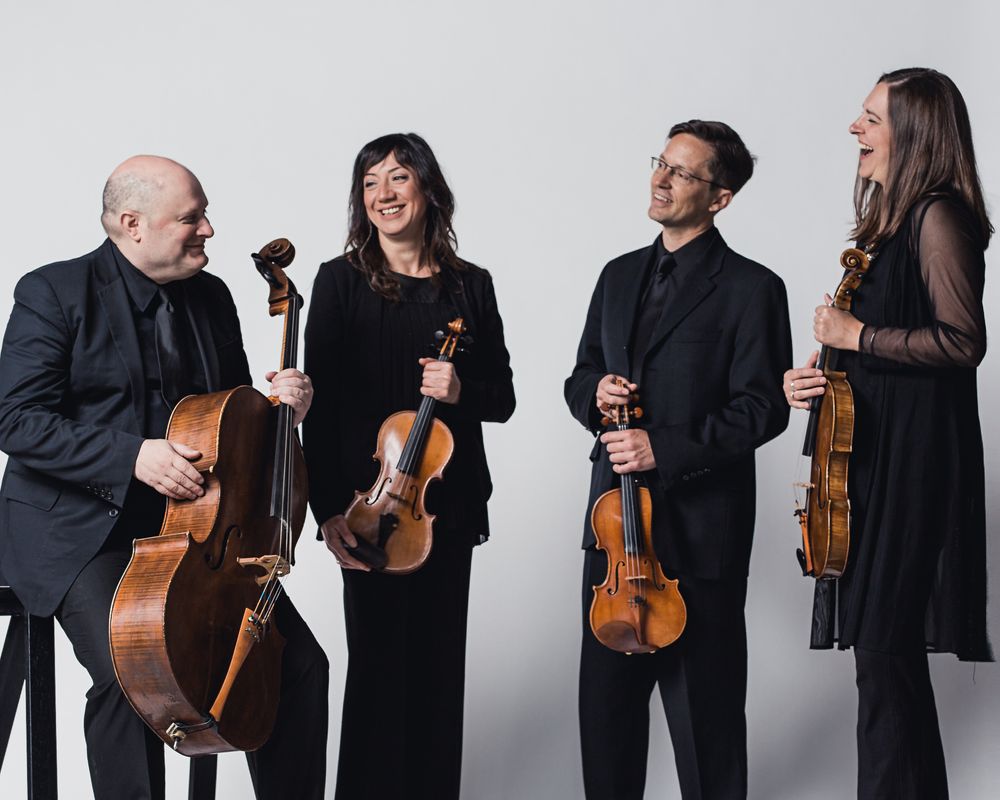 Emily Carr String Quartet
Müge Büyükçelen-Badel and Cory Balzer, violins
Mieka Michaux, viola
Alasdair Money, cello
Parmela Attariwala will be substituting for Müge Büyükçelen-Badel on this performance 

The Emily Carr String Quartet has established itself as one of BC's finest music ensembles. Formed in 2006 by members of the Victoria Symphony and the Aventa Ensemble of Victoria BC, the Emily Carr String Quartet have performed in Canada, the USA and Europe. They have collaborated with artists such as: Jamie Parker, Marion Newman, Arthur Rowe, the Lafayette, Alcan and Tin Alley String Quartets as well as bluesman Harry Manx. In addition to frequent performances on Vancouver Island, they have performed for "ISCM's 2017 World Music Days", "Music in the Morning", "Music on Main" concert series in Vancouver, the Ankara Music Festival, Hornby Festival, Victoria Summer Music Festival and the IAMA Canadian Music Showcase in Montreal.
They have participated in residencies at Stanford University and the Banff Centre. The ECSQ has been featured on CBC radio's "North by Northwest" and their CD "Hidden Treasure" w a s nominated for the
2012 classical recording of the year at the Western Canadian Music Awards.
The quartet has also done much to honour the celebrated local artist, Emily Carr. They have commissioned pieces by Canadian composers: Tobin Stokes "Feathers" (2014) Jocelyn Morlock "Big Raven" (2015) Jared Miller "Strangled by Growth" (2016) and Jennifer Butler "One More Way to See" (2018). They frequently incorporate Carr's writings in concerts, most notably at their concert series held at Emily Carr House.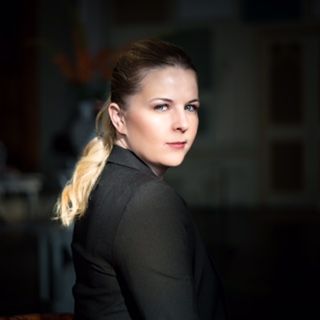 Kimberley-Ann Bartczak, piano
A native of Montreal, Kimberley-Ann Bartczak is a conductor, pianist and vocal coach. Currently the Principal Coach and Accompanist at Pacific Opera Victoria, she was Associate Artistic Director for Manitoba Underground Opera, Resident Conductor and Repetiteur at Calgary Opera, was on staff at Opera on the Avalon, and an alumna of Vancouver Opera's Yulanda M. Faris Young Artist Program. Recent appearances include: Music Director for the world premiere of Veronika Krausas' Ghost Opera at Calgary Opera and Sokolovic/Bartok's Svadba/Bluebeard's Castle double bill at Manitoba Underground Opera, and principal coach for Mozart's Così fan Tutte at Pacific Opera Victoria. She is an active performer, having performed and conducted coast to coast across Canada as well as in the United States, Mexico and Europe. She also teaches at the Victoria Conservatory of Music and is a regular vocal coach at University of Victoria.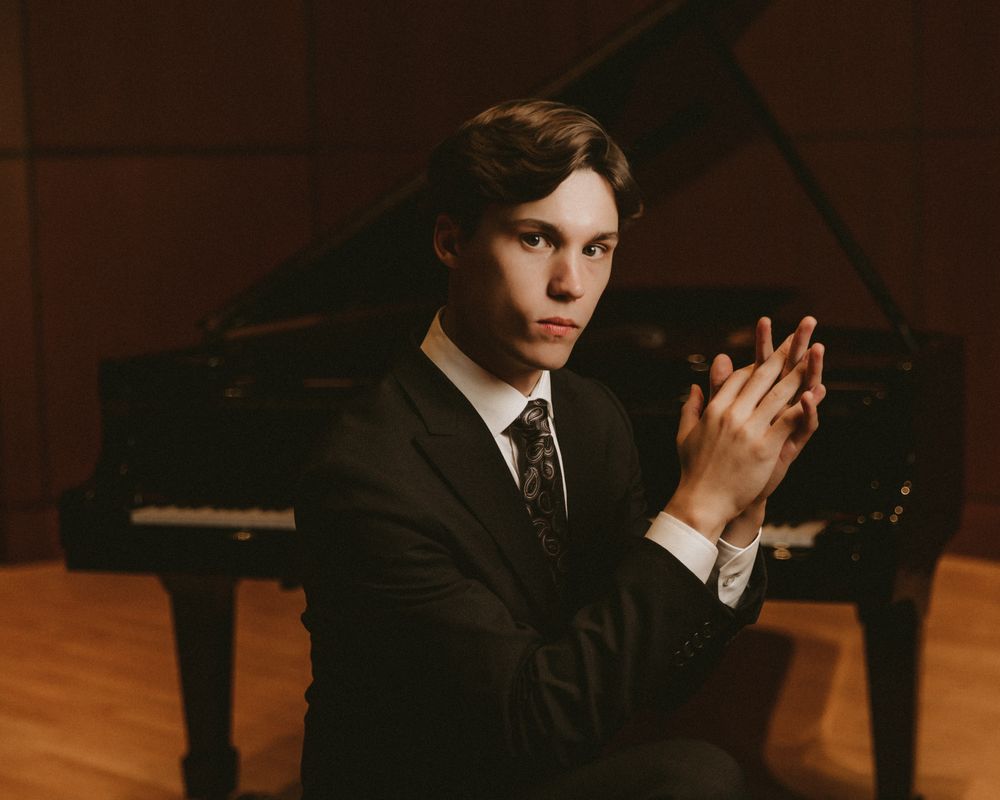 Jaeden Izik-Dzurko, piano
Celebrated by the Canadian Broadcasting Corporation in 2021 as one of "30 hot Canadian classical musicians under 30",                              pianist Jaeden Izik-Dzurko is quickly earning a reputation as a substantial young artist.  Recognized by audiences, conductors, composers, and critics alike for the exceptional communicative power and thoughtfulness of his interpretation, "…he projects a distinctive musical personality that imbues even the most routine passagework with character and individuality" (Calgary Herald).
Born in Salmon Arm, British Columbia, Jaeden has achieved extraordinary success at numerous competitions worldwide, including four consecutive First Prizes in six months.  That remarkable run began by winning First Prize at the 2022 Hilton Head International Piano Competition, followed by Barcelona's 2022 Maria Canals International Piano Competition in March.  In May, Jaeden returned to his native Canada, earning First Prize at The Shean Piano Competition in Edmonton, Alberta.  Then, in August 2022, Jaeden was awarded First Prize and the Gold Medal at the 20th Paloma O'Shea Santander International Piano Competition in Spain, where he also garnered the Canon Audience Award and a special Chamber Music Award.  In fact, his winning Santander performance of the Brahms Piano Quintet with Cuarteto Casals has resulted in two subsequent collaborative engagements with them—one in November 2022 at London's Wigmore Hall, and one in February 2023 for the Vancouver Friends of Chamber Music.
Jaeden has been a featured soloist with the Calgary Philharmonic and numerous other Canadian orchestras, and upcoming concerto engagements include: the Hilton Head Symphony Orchestra; Okanagan Symphony Orchestra; Orquesta Sinfónica de Madrid; Real Orquesta Sinfónica de Sevilla; Orquesta Sinfónica de Bilbao; Orquesta Sinfónica de Radio Televisión Española, and the Sinfónica de Tenerife.
A gifted recitalist, Jaeden was chosen by the Vancouver Recital Society to videotape a solo program for the premiere episode of "Virtually VRS" in fall 2020.  His October 2022 debut recital at Weill Recital Hall at Carnegie Hall--presented by the HHIPC--drew a rave review from the New York Concert Review: "…one the most refined tonal palettes I have ever heard, combined with a polished close-to-the-keys technique, and a certain basic humility in the service of the music."  Other current recital highlights include: Wigmore Hall in London; Salle Cortot in Paris; the Palau de la Música Catalana in Barcelona; the Gasteig de Munich; and prominent venues in Bilbao, Essen, Jerez, Mallorca, Sevilla, and Tenerife.  In addition, Jaeden is honored to be invited by the Vancouver Recital Society to open their 2023-24 concert season.
Jaeden earned his Bachelor of Music at The Juilliard School under Dr. Yoheved Kaplinsky, and he currently studies with Dr. Corey Hamm at the University of British Columbia.  A passionate advocate for Canadian contemporary music, Jaeden has been recognized for his exciting and insightful interpretations, including a noteworthy 2017 recital showcasing works all written by Canadian composers, in honor of Canada's sesquicentennial.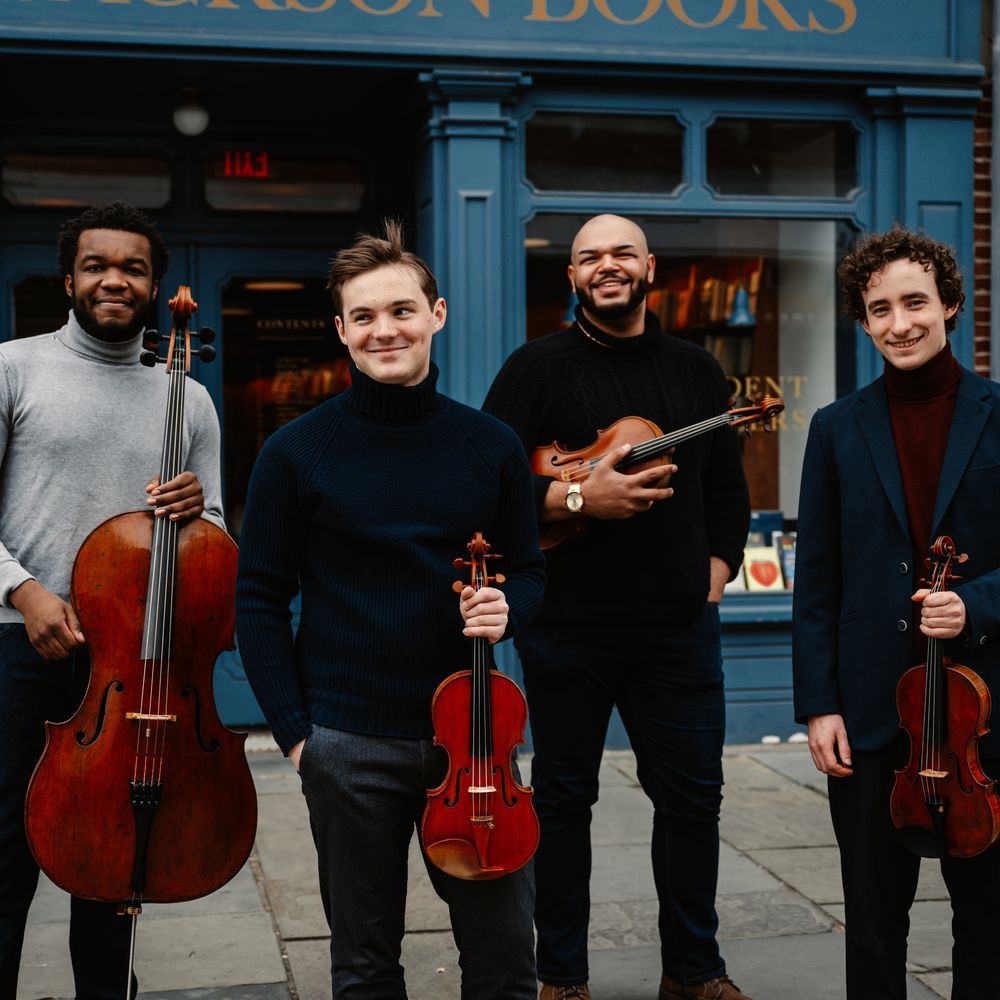 Isidore String Quartet, Recipients of an Avery Fisher Career Grant for 2023
Adrian Steele and Phoenix Avalon, violins
Devin Moore, viola
Joshua McClendon, cello

Winners of the 14th Banff International String Quartet Competition in 2022, the New York City-based Isidore String Quartet was formed in 2019 with a vision to revisit, rediscover, and reinvigorate the repertory.  The quartet is heavily influenced by the Juilliard String Quartet and the idea of 'approaching the established as if it were brand new, and the new as if it were firmly established.'
The members of the quartet are violinists Adrian Steele and Phoenix Avalon, violist Devin Moore, and cellist Joshua McClendon. The four began as an ensemble at the Juilliard School, and following a break during the global pandemic reconvened at the Kneisel Hall Chamber Music Festival in the summer of 2021 under the tutelage of Joel Krosnick.  In addition to Mr. Krosnick, the ISQ has coached with Joseph Lin, Astrid Schween, Laurie Smukler, Joseph Kalichstein, Roger Tapping, Timothy Eddy, Donald Weilerstein, Atar Arad, Robert McDonald, Christoph Richter, Miriam Fried, and Paul Biss, while performing in venues such as Alice Tully Hall, the Kennedy Center, and at the Ravinia Festival.
Their Banff triumph brings extensive tours of North America and Europe, a two-year appointment as the Peak Fellowship Ensemble-in-Residence at Southern Methodist University in Dallas beginning in 2023-24, performances at Haydn Hall in Eisenstadt (in spring 2023) and the Lucerne Festival, plus a two-week residency at Banff Centre including a professionally produced recording, along with extensive ongoing coaching, career guidance, and mentorship.
The Isidore Quartet's 2022-2023 season will feature debut appearances in Pittsburgh, PA; Durham, NC; Burlington, VT; Kalamazoo, MI; Evanston, IL; San Antonio, TX; Laguna Beach, CA (with pianist Jeremy Denk and violinist Stefan Jackiw); and Seattle, WA (with violinist James Ehnes). The quartet will return Washington's Kennedy Center as part of the Fortas Chamber Music Concert Series, and will also perform for Schneider Concerts at the Mannes School of Music.    In Europe they will perform at Esterhazy Palace in Austria, and will spend time at the Britten Pears Arts Institute.
The quartet will be working as a resident ensemble with PROJECT: MUSIC HEALS US providing encouragement, education, and healing to marginalized communities - including elderly, disabled, rehabilitating incarcerated and homeless populations - who otherwise have limited access to high-quality live music performance. An ensemble actively dedicated to pushing the boundaries of music-making, the ISQ is the resident ensemble for the Contemporary Alexander School/Alexander Alliance International.  In conjunction with those well-versed in the world of Alexander Technique, as well as other performers, the ISQ explores the vast landscape of body awareness, mental preparation, and performance practice.
The name Isidore recognizes the ensemble's musical connection to the Juilliard Quartet:  one of that group's early members was legendary violinist Isidore Cohen.  Additionally, it acknowledges a shared affection for a certain libation - legend has it a Greek monk named Isido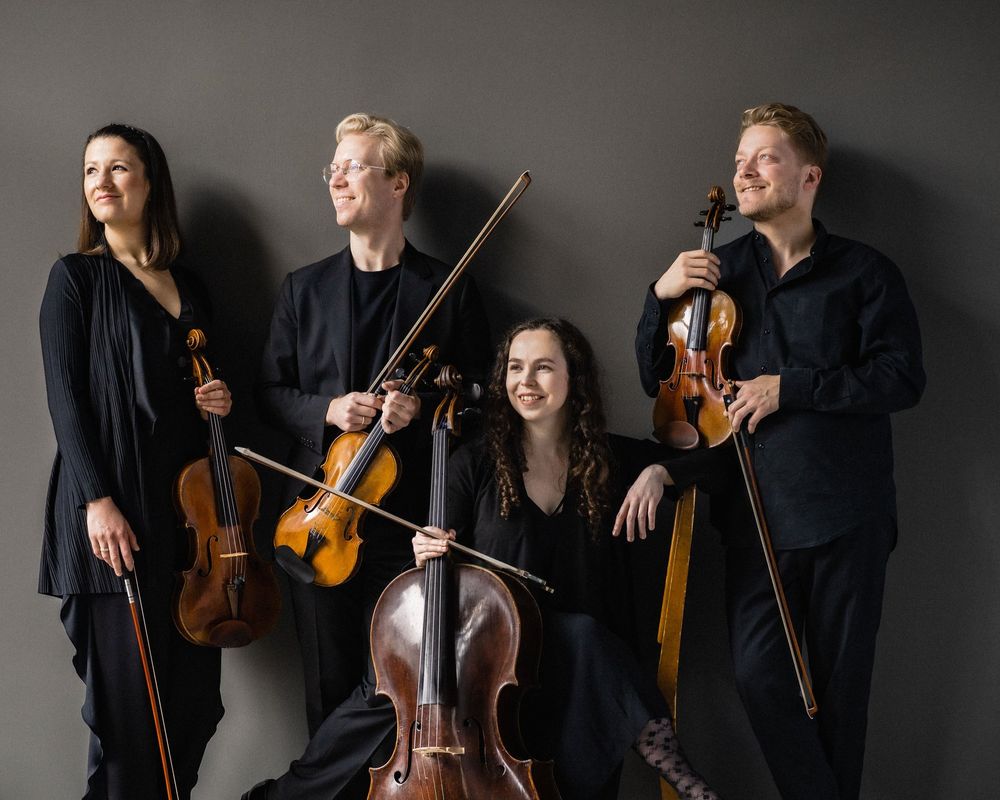 Marmen Quartet
Johannes Marmen and Laia Valentin Braun, violins
Bryony Gibson-Cornish, viola
Sinead O'Halloran, cello

With a growing reputation for the courage, vitality and intensity of its performances the Marmen Quartet is fast establishing itself as one of the most impressive and engaging new talents in the chamber music arena. 2019 marked a year of significant achievement for the Quartet, with First Prizes at both the Bordeaux International String Quartet Competition and Banff International String Quartet Competition, where they were also awarded the Haydn and Canadian Commission prizes. Other accolades include first prize at the Royal Overseas League Competition (2018) and awards at the International Joseph Joachim Chamber Music Competition.

The Marmen Quartet has performed at venues including Wigmore Hall, Berlin Philharmonie, Boulez Saal, Frankfurt Alte Oper, Stockholm Konserthuset, Milton Court (Barbican), Palladium Malmö and Muziekgebouw Eindhoven. The Quartet performs regularly across Sweden and 2020 saw its first complete cycle of Beethoven String Quartets for Musik I Syd. Festival engagements have taken the Quartet to the Amsterdam String Quartet Biennale, BBC Proms, Hitzacker, Lockenhaus, Mecklenburg Vorpommern, and the Barcelona and Gulbenkian Foundation String Quartet Biennale Festivals.

In the US, 2022 saw the Quartet takes up its position as Peak Fellowship Ensemble-in-Residence at the Meadows School of the Arts, Southern Methodist University in partnership with the Banff International String Quartet Competition; a relationship that sees the Quartet work closely with the University's students as well as giving performances and developing new projects across its residencies. The Quartet returns three times to the University in the 22/23 season, with other North American highlights including performances in Calgary and Vancouver. Another highlight of the 22/23 season will see the Marmen Quartet taking part in the Australian National Academy of Music's Quartetthaus project, hosted in London by the Royal Albert Hall. A showcase of both musical and architectural talent, the Quartetthaus programme features works by both Australian and British artists including a new piece by Hannah Kendall commissioned for the Marmen Quartet by ANAM. Other UK highlights include a return to Wigmore Hall, as well as performances in Cambridge, Manchester, Belfast and Sheffield. In Europe, recital engagements take the Quartet to Bremen, Munich and Bern as well seeing them take part in the Heidelberg String Quartet Festival and undertaking an extensive tour of Ireland for the National String Quartet Foundation. Elsewhere, the Quartet makes its debut in Israel with a tour including performances in Jerusalem and Tel Aviv.

Formed in 2013 at the Royal College of Music, the Marmen Quartet were holders of the Guildhall School of Music String Quartet Fellowship (2018-2020) and studied at the Hochschule für Musik inHannover with Oliver Wille as well as in London with Simon Rowland-Jones and John Myerscough (Doric Quartet). They were mentored by the late Peter Cropper and have received support from the Musicians Company/Concordia Foundation, the Hattori Foundation, Help Musicians and the Royal Philharmonic Society (Albert and Eugenie Frost Prize).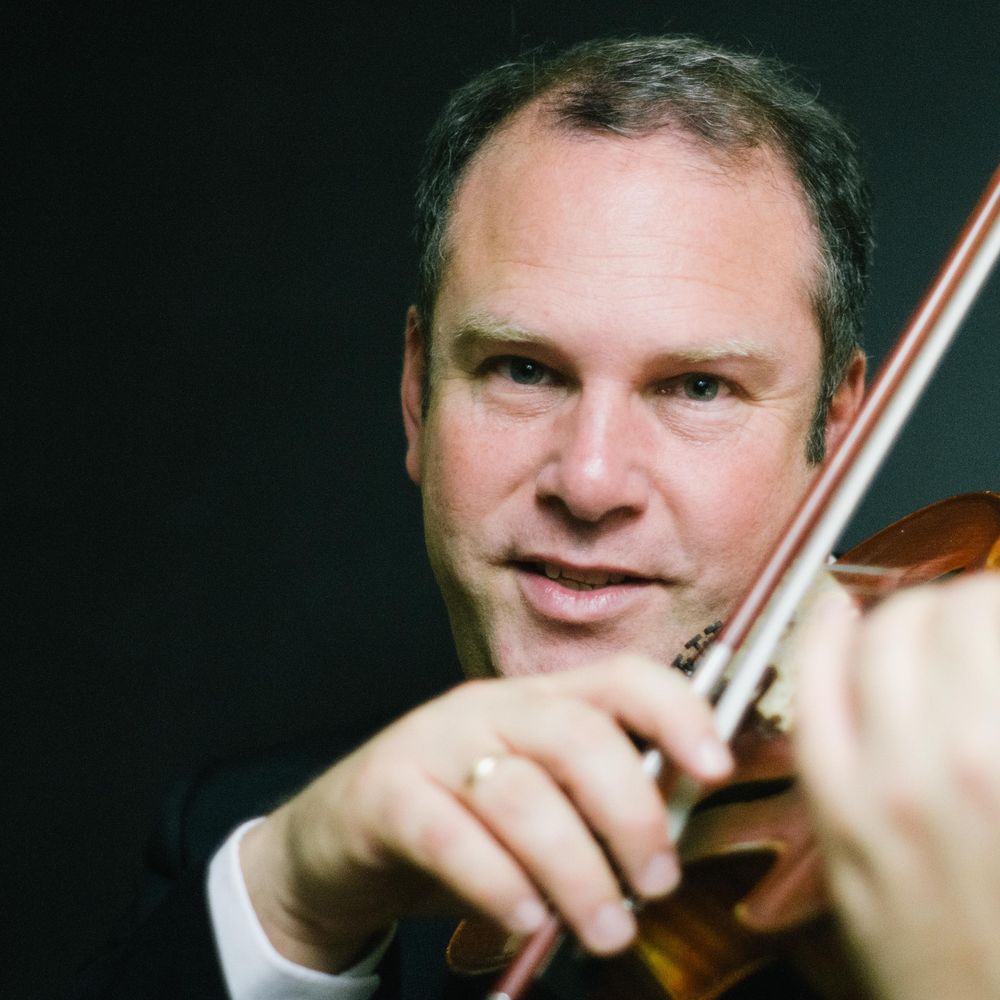 Yariv Aloni, viola
Violist Yariv Aloni is acclaimed by critics for his "impeccable technical accomplishments, exquisite phrasing and superb viola playing", and as having "a huge, singing tone and a rare depth and nobility of feeling". 
He is the Music Director of the Victoria Chamber Orchestra, the Greater Victoria Youth Orchestra, the Sooke Philharmonic Orchestra, and the principal guest conductor of the West Coast Symphony Orchestra in Vancouver.
Former violist of both the Penderecki String Quartet and the Aviv Quartet, he has performed in many European and North American concert halls, including Carnegie Hall and the Lincoln Center in New York, the Louvre in Paris, and the Tonhalle in Zürich. He has recorded for the United, Marquise, Tritonus, CBC, and independent labels.  He regularly performs Chamber Music in numerous chamber-music concerts, festivals, and recital series.
Yariv was a finalist at the François Shapira competition in Tel Aviv. He earned the Israel Broadcasting Authority award for chamber music performance and numerous awards and scholarships from the American-Israel Cultural Foundation. 
Born on a kibbutz in Israel, Yariv began studying the violin and subsequently turned to the viola, which he studied with David Chen at the Rubin Academy of Music in Jerusalem; Daniel Benyamini, principal violist of the Israel Philharmonic Orchestra; and Michael Tree, violist of the Guarneri Quartet.  With an emphasis on chamber music, Yariv also studied at the Jerusalem Music Centre with members of the Tel-Aviv Quartet and at the University of Maryland with the Guarneri String Quartet.